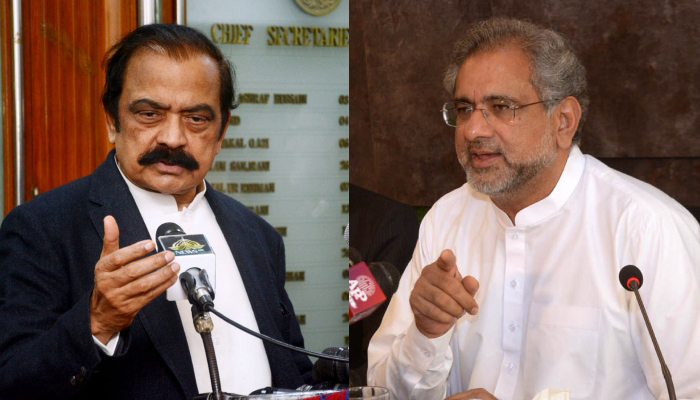 Bugti's mandate is not to arrest someone, says Abbasi.
Says caretaker PM only required to run affairs during transitory period.
Polls in January not possible due to cold weather in upper parts: Abbasi.
---
Former prime minister and Pakistan Muslim League-Nawaz (PML-N) leader Shahid Khaqan Abbasi has disapproved of his party's colleague Rana Sanaullah's statement warning caretaker Interior Minister Sarfraz Bugti over party supremo Nawaz Sharif's arrest upon his return to the country.
"Rana Sanaullah is a sensible man [but] he should not have said something which has multiple meanings," the senior PML-N leader said while responding to a question on Geo News' Capital Talk show programme on Tuesday.
The statement came after Sanaullah hit back at incumbent caretaker security czar Bugti for saying that the PML-N supremo would be arrested on his return if he was not granted bail.
The former premier, who has been living in London since then, has recently announced his return to the country on October 21 this year.
Reacting to the Bugti's remarks, Sanaullah said the minister crossed his limits by making such a statement.
"Sarfraz Bugti should see the fate of former interior minister Sheikh Rashid before issuing giving such remarks," the PML-N leader warned.
However, Abbasi also opposed Bugti's remarks, saying that it was not his mandate to arrest someone and his only mandate was to ensure the implementation of the law.
"If you want to arrest Nawaz Sharif and there is also court order [regarding arrest] then you will have to implement on it," he maintained.
Moreover, Abbasi also commented on caretaker Prime Minister Anwaar-ul-Haq Kakar's recent statement that fair elections are possible without incarcerated Pakistan Tehreek-e-Insaf (PTI) Chairman Imran Khan participating in it.
"Caretaker prime minister should not have said such thing. His job is to run country's affairs during transitory period and remain neutral..," he remarked.
This is not the first time that Abbasi has publicly differed from the statements of PML-N leaders. On Monday, took exception to his party-led government performance saying his it did not take any meaningful steps to resolve the prevailing issues.
"The ability to quick decision making was not seen in the Shehbaz-led government as it should have been," Abbasi said while referring to the previous coalition government led by PML-N President Shehbaz Sharif.
Abbasi also said that there was both a need and space for a new political party in the current scenario. 
Speaking about upcoming general elections, Abbasi said that it is not possible to hold polls in the upper parts of the country in January due to severe cold.

#Abbasi #disapproves #Sanaullahs #warning #interior #minister #Nawazs #arrest #remarks

Source link