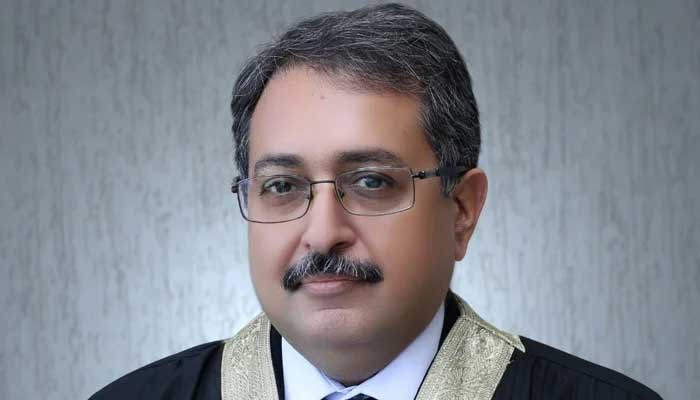 PTI running smear campaign against IHC CJ from its official X handle.
Parties using derogatory language against judiciary, says law ministry.
Campaign is a direct attack on judiciary, judges, says experts.
---
Amid the Pakistan Tehreek-e-Insaf's (PTI) smear campaign against Islamabad High Court (IHC) Chief Justice Aamir Farooq, the Ministry of Law and Justice has warned the political parties against targeting the state institutions.
Without naming anyone, the ministry in a statement said a political party's campaign on social media against the IHC CJ is reprehensible.
The ministry further said the party was also using derogatory language not only against Justice Farooq but also against the judiciary, The News reported on Monday.
The campaign from the party's official X handle calls Justice Farooq a "hypocrite" and accuses him of facilitating the PTI chairman's abduction. Various offensive hashtags, posts and videos are also being used to target the judge.
According to legal experts, the campaign is a direct attack on the judiciary and judges, constituting contempt of court.
In a related development, the Islamabad High Court Bar Association strongly condemned the malicious campaign against the IHC CJ Farooq on social media, saying he was known for his integrity, impartiality, competence and adherence to merit.
The bar said deliberate malicious campaigns were an attempt to lower the stature of distinguished judge and shake public confidence in the judiciary.
Those inciting the malicious propaganda should be brought to justice, it added. 
In a separate statement, IHCBA President Naveed Malik said a malicious campaign was being conducted on social media targeting Justice Farooq.
"These unrelenting campaigns based on nefarious motives are an attempt to tarnish the impeccable reputation of Chief Justice Amir Farooq. The Islamabad High Court Bar is determined not to allow such malicious attempts to succeed at any cost," said the IHCBA president.
"The authorities concerned are requested to take an immediate and decisive action against those inciting the malicious propaganda. The real motives and misinformation efforts of these characters must be revealed immediately."

#PTIs #smear #campaign #IHC #parties #warned #attacking #institutions

Source link