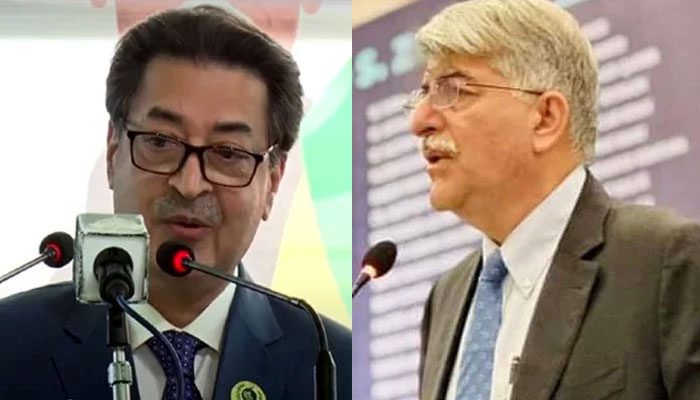 In a hard-hitting speech, Supreme Court Bar Association (SCBA) President Abid Zuberi on Thursday said that Article 6 of the Constitution — which deals with treason — should be applied on Chief Election Commissioner (CEC) Sikandar Sultan Raja for violating the top court's order and the Constitution as he failed to hold elections within 90 days after an assembly's dissolution.
On March 1, the SC, in a split verdict, ruled that elections for Khyber Pakhtunkhwa (KP) and Punjab assemblies should be held within 90 days. The direction was given by the apex court in the suo motu notice verdict which was announced by Chief Justice Umar Ata Bandial. In light of the SC's ruling, President Arif Alvi announced April 30 as a date for the Punjab polls after consulting the ECP.
Later, the electoral watchdog announced the postponement of the elections in Punjab citing security reasons as the major cause behind the change of plan. The ECP postponed the polls till October 8.
In April, the SC declared the ECP's decision on the Punjab and Khyber Pakhtunkhwa (KP) election null and void, ordering to hold snap polls — a persistent demand forced by Pakistan Tehreek-e-Insaf (PTI) Chairman Imran Khan after he dissolved the assemblies in both the provinces. The top court ordered the ECP to hold elections in Punjab on May 14. The ECP, however, could not comply with the top court's order.
Addressing the Lawyers Convention organised by SCBA, Zuberi lashed out at the ECP, saying that the top court's order could not be implemented so far.
"The ECP is violating the SC's order and the Constitution," said Zuberi. He also announced that the SCBA would challenge the recent amendments to the Official Secrets Act and the Pakistan Army Act in the SC.
Aitzaz terms CEC 'facilitator'
Firing a fresh salvo at the CEC, veteran lawyer Aitzaz Ahsan termed Raja as a "facilitator" and "violator of the Constitution" for not holding general elections in the country on time.
Last month, the Council of Common Interests (CCI) approved the results of the 2023 digital census, making it almost certain that general elections may not be held on time. Then prime minister Shehbaz Sharif had chaired the meeting to decide the fate of the 2023 census.
Addressing the lawyers convention via a video link, Ahsan said, "The CEC has become a facilitator for not holding election [on time]. He is a violator of the Constitution."
---
More to follow… 

#Article #applied #CEC #violating #Constitution #SCBA #president

Source link