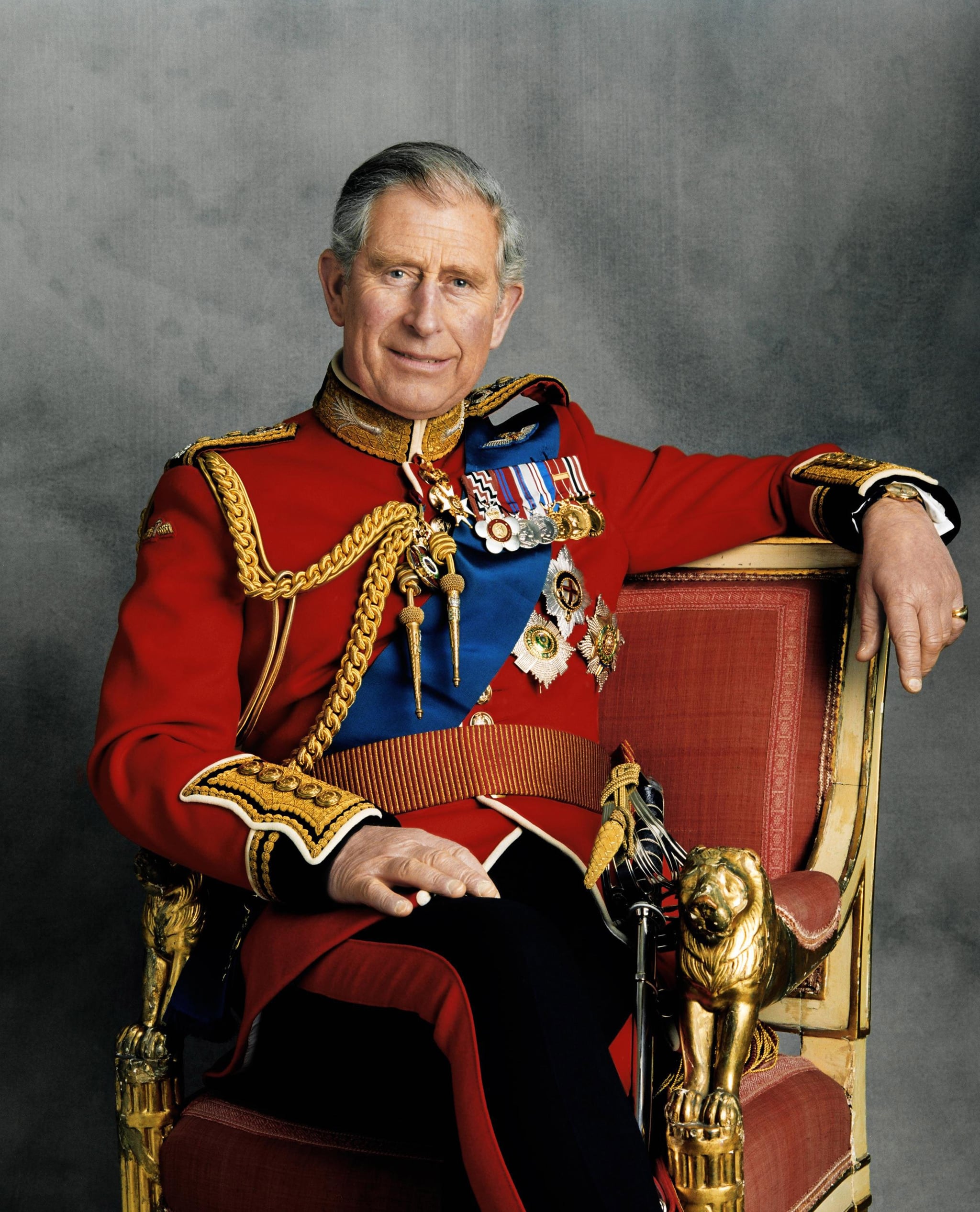 The plans for King Charles III's coronation are officially here. As many of us read about what exactly a coronation is, the royal family and event planners far and wide have been busy organizing, conceiving and rehearsing every element of the coronation down to the smallest detail.
The occasion, which formalizes King Charles' role as head of the Church of England and sovereign of the country, takes place at 6 p.m. EST. He and Queen Consort Camilla will travel across London in a gold state coach from Buckingham Palace to Westminster Abbey starting at 5:20am EST. After the service, in which the St. Edwards crown is placed on his head, they travel in a larger procession back to Buckingham Palace before going onto the balcony with members of the royal family to watch the flypast.
We also know that Prince Harry will only be present at the coronation. On April 12, it was announced that the king's son will travel to London to be reunited with the royals without his wife, Meghan Markle, or children, Prince Archie and Princess Lilibet. The announcement was not surprising given that it will also be Archie's 4th birthday on Coronation Day and in light of recent conflicts between the Sussexes and the rest of the royal family sparked by the revelations in Harry's memoir, "Spare".
But Markle isn't the only recognizable face expected to be absent from the celebrations. Sarah Ferguson, ex-wife of Prince Andrew and mother of Princess Beatrice and Princess Eugenie, has been dropped from the guest list, although she understands why. "I am not [going], it's a state event, and if you're divorced I don't think you can have it both ways," she said on "Good Morning Britain" on April 20. husband, not his but for him, it's important to make a distinction." She added that she will be there in private. "That's a wonderful feeling to be a part of, really, and like I said , you can not have both . You are not allowed to sit on the fence. You're in or out, don't mess around." Lady Pamela Hicks, the late Queen's former bridesmaid, has also not been invited as the King reportedly trimmed down the guest list.
While all eyes will be on the king and Camilla, who will also be crowned, Prince William, as heir to the throne, will play an important role in the ceremony – and so will his three children. The Times has reported that Prince George, 9, Princess Charlotte, 7, and Prince Louis, 4, will all accompany their grandfather and step-grandmother as they leave Westminster Abbey once the ceremony is over and join the coronation procession back to Buckingham Palace.
While the siblings have taken part in many royal events (who could forget Louis's hilarious star moment at Queen Elizabeth II's anniversary concert?), it was decided that the youngest was too young to attend the Queen's funeral last year Elizabeth II, while Charlotte and George was in attendance. However, being so much older at the King's coronation, it seems likely that Louis will be ready for his ceremonial debut this weekend.
The weekend will conclude with a coronation concert in Windsor on May 7, headlined by Katy Perry and Lionel Richie.
"The coronation will reflect the monarch's current role and look to the future, while being rooted in longstanding traditions and pageantry," Buckingham Palace said in a statement. This could refer to rumors that King Charles is planning a simpler service than his mother's, which included 8,000 guests and lasted three hours. "Charles became King Charles the moment his mother died, but the coronation has to do with the work and being the monarch in the eyes of all people," royal historian Robert Lacey told People, adding that while tradition is respected, we can probably expect a more modern ceremony with "interfaith" qualities.
– Additional reporting by Chandler Plante and Gabriella Ferlita




Source link
#Heres #official #plan #King #Charles #IIIs #coronation #ceremony #weekend