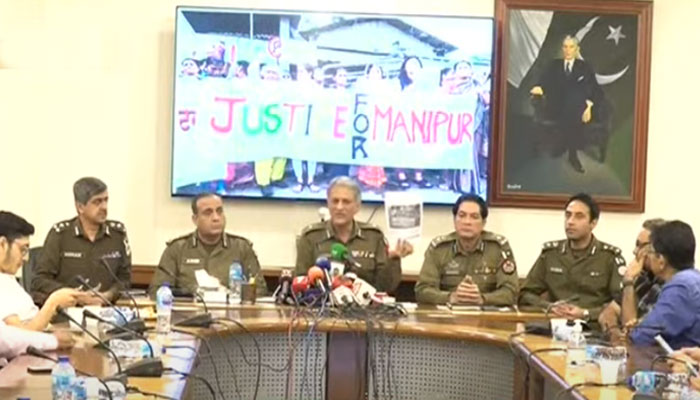 Punjab IG Usman Anwar says about 180 people were arrested. 
"Efforts being made to create a rift between Muslims, Christians." 
Police chief urges Muslims not to take law into their own hands. 
---
Punjab Inspector General Police (IGP) Dr Usman Anwar on Monday revealed that "hostile agencies" were linked to the Jaranwala incident which involved violent attacks on a number of houses and churches of the Christian community over alleged blasphemy allegations.
On August 16, a crowd vandalised several churches and set scores of houses on fire in Jaranwala town of the industrial district of Faisalabad after clerics made announcements in mosques inciting the mob to attack the Christian community under allegations of blasphemy.
The attack sparked outrage on social media and among political and religious figures in the country, who condemned the incident, saying that there was no room for such extreme behaviour. 
"The Jaranwala incident has links to hostile agencies. We have arrested three main suspects involved in the attacks including about 180 other people," IG Anwar said while speaking during a press conference in Lahore.
The law, he further said, became active against the Jaranwala incident and the victims of the Christian community are being aided while the construction of the damaged churches is underway.
"We have already said that efforts are being made to create a rift between Muslims and Christians. The conspiracy was started from the Sargodha incident," the inspector-general of police said.
Speaking about the Holy Quran desecration incident in Sargodha, IG Anwar said that the police have arrested three suspects involved in the incident.
"We have dismantled the network of people involved in the desecration of the Quran. We assure that incidents like this will not happen anymore," he added.
IG Anwar also urged the Muslims not to take the law into their own hands, assuring that those who facilitate the enemies will be brought to justice and no exception will be given to them.
"It is the responsibility of the mosque's imam and muezzin not to let anyone misuse the loudspeakers," he added. 

#Hostile #agencies #linked #Jaranwala #incident #Punjab #police #chief

Source link