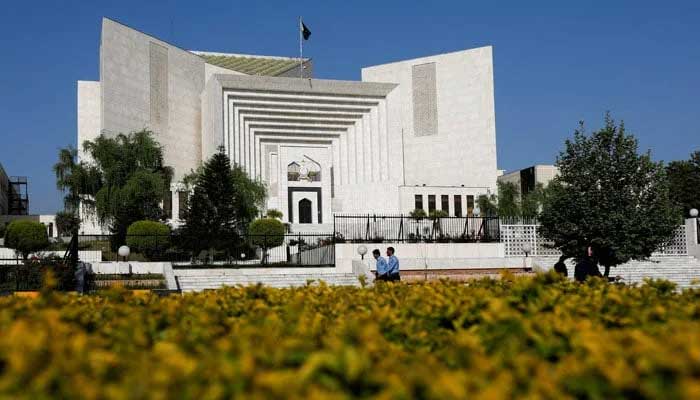 Petition filed under Article 184/3 of Constitution of Pakistan.
Plea argues President Alvi clarified that he didn't approve two laws. 
Moves SC to expunge amendments as due process was not followed.
---
ISLAMABAD: Pakistan Tehreek-e-Insaf (PTI) Chairman Imran Khan submitted a petition to the Supreme Court (SC) against the amendments made in the Army Act and Official Secrets Act.
The Official Secrets (Amendment) Bill, 2023, and the Pakistan Army (Amendment) Bill, 2023, reportedly received President Arif Alvi's nod in August after being passed in the Senate and National Assembly in July.
However, a day after the reports of approval from the president — who is a PTI member — Alvi denied signing the bills, while claiming that his staff "undermined" his orders.
Today, in the petition filed under Article 184/3 of the Constitution of Pakistan, the PTI chief challenged the amendments to the two laws to be contradictory to the basic fundamental rights.
The plea, filed by Advocate Shoaib Shaheen on the former premier's behalf, stated that empowering "secret agencies to raid and detain any citizen or enter and search any person in any place without obtaining a search warrant from any court of law," is "unethical" and in violation of the Constitution.
It argues that President Alvi has clarified that he did not approve any of the said laws, therefore the passage of these laws was unconstitutional.
It urges  the court to expunge said amendments as due process was not followed.
Curious case of the president's signature
Last month, a day after President Alvi reportedly assented to the two bills, he claimed he did not gave assent for both these laws to be passed.
"As God is my witness, I did not sign Official Secrets Amendment Bill 2023 & Pakistan Army Amendment Bill 2023 as I disagreed with these laws," President Alvi said on X.
"I asked my staff to return the bills unsigned within stipulated time to make them ineffective. I confirmed from them many times that whether they have been returned & was assured that they were."
"However I have found out today that my staff undermined my will and command. As Allah knows all, He will forgive IA. But I ask forgiveness from those who will be effected," he added.

#Imran #challenges #amendments #Army #Official #Secrets #Act

Source link