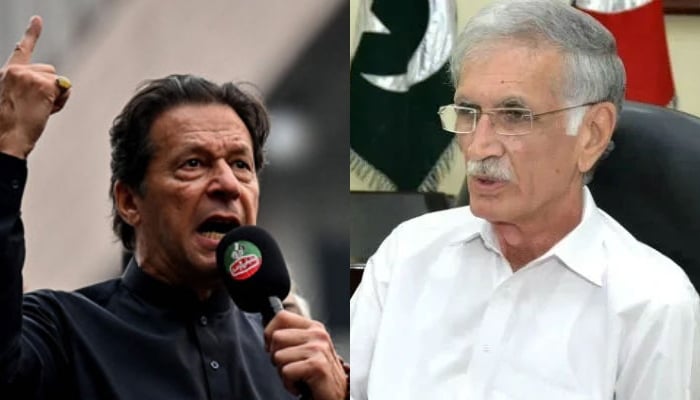 Pakistan Tehreek-e-Insaf Parliamentarians (PTI-P) Chairman Pervez Khattak has made fresh revelations, accusing his former boss Imran Khan of being a "dictator" and wanting to extend his rule for "a lifetime".
Addressing a political gathering in Mansehra, Khyber Pakhtunkhwa (KP) on Monday, the former defence minister reprimanded the Pakistan Tehreek-e-Insaf (PTI) chairman over his "dictatorial" attitude and that he intended to "rule for life". 
"He [Imran Khan] was a dictator who wanted to rule for life."
The former KP chief minister also said: "The PTI chief had no intention of delivering [to masses], he didn't care who stays and who leaves [the ruling party]."
At the same time, he also acknowledged and regretted that despite being in power in the Centre as well as in KP, his former party failed to bring any change and fulfil the PTI's promises and slogan of "Naya Pakistan".
Khattak parted ways with the former ruling party in July this year after he was served with a show-cause notice followed by the termination of his party membership over his alleged involvement in persuading PTI workers to leave the party. He together with other key PTI leaders, formed the PTI-Parliamentarians in the same month.
The former chief executive succeeded in amassing a significant number of PTI leaders emerging as a notable player in provincial electoral politics.
He also accentuated that it was his personal efforts that led to the establishment of the provincial government in KP.
Imran Khan had nothing to do with the PTI's government in KP, the PTI-P leader added.
He also accused the deposed prime minister, who was removed from power via a no-confidence motion in April last year, of backing out from his pledges.
Despite Khattak's fresh revelations, earlier he had also accused Khan of intending to bring a "revolution" against the army.
Meanwhile, expressing his views on the Khan-led party's future, the former minister said that the PTI may even face a ban following the May 9 incident.
Khattak condemned and is openly critical of the PTI and Khan's role in the May 9 riots in which army installations including the Lahore Corps Commander's House and the General Headquarters (GHQ) in Rawalpindi were targeted and vandalised.

#Imran #Khan #wanted #rule #life #claims #Pervez #Khattak

Source link