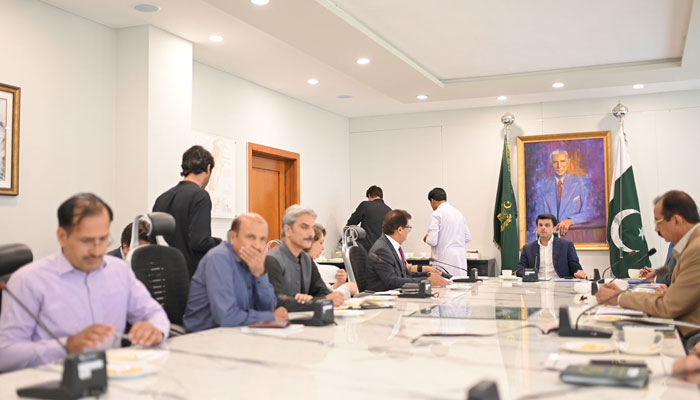 Special Assistant to the Prime Minister on Overseas Pakistanis Jawad Sohrab Malik on Tuesday underscored that the current caretaker government is resolute in addressing the challenges and issues faced by the overseas community with utmost priority
He reaffirmed Caretaker Prime Minister Anwaar-ul-Haq Kakar's unwavering commitment to overseas Pakistanis in a meeting with heads of key departments. 
Employment Cooperation (OEC), Employees Old Age Benefits Institution (EOBI), Workers Welfare Fund (WWF), Overseas Pakistanis Foundation (OPF), and Bureau of Emigration and Overseas Employment (BEOE) were part of the meeting. 
During the session, each department provided updates on their ongoing initiatives, accomplishments, and upcoming projects.
SAPM Malik urged the OEC to explore innovative strategies to enhance efficiency and optimise resources, creating more opportunities for overseas employment. 
In the case of the BEOE, the special assistant to the PM stressed the importance of proactively increasing the export of skilled manpower.
Turning attention to the WWF, SAPM Malik pressed for swift resolution of the concerns of labourers, emphasising the significance of their well-being. 
Meanwhile, he directed the EOBI to ensure a seamless pension process for retired workers, alleviating any potential difficulties in receiving their rightful benefits.
SAPM Malik, regarding the OPF, was briefed on the initiatives in place to enhance the welfare of overseas Pakistanis. He further stressed the need to expedite the resolution of complaints of overseas Pakistanis as it is of paramount importance. 
In line with this commitment, the SAPM announced the establishment of a 24/7 complaint monitoring setup at the OPF Head Office, dedicated to promptly addressing and resolving the grievances of overseas Pakistanis.
This concerted effort indicates the government's commitment to improving the lives of overseas Pakistanis and ensuring that their contribution is recognised in every possible manner.

#Interim #govt #firm #addressing #overseas #Pakistanis #issues #SAPM #Malik

Source link