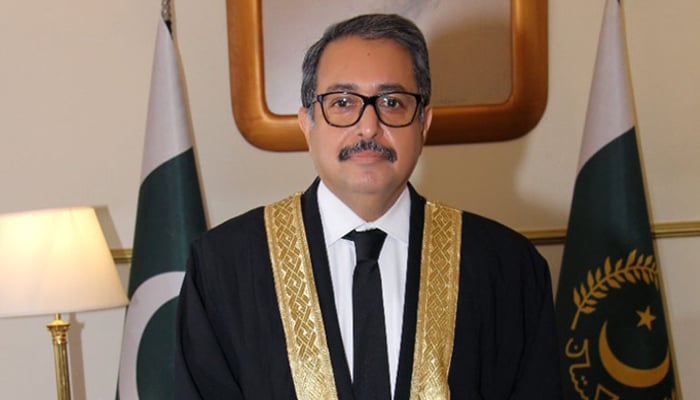 Officers from ISI, IB and Islamabad police are part of probe team.
FIA Headquarters Secretariat to facilitate investigation.
Initial findings to be submitted within 15 days.
---
ISLAMABAD: To investigate the smear campaign against Islamabad High Court (IHC) Chief Justice Aamir Farooq on social media, the Ministry of Interior has formed a four-member joint investigation team (JIT), it emerged on Tuesday.
The JIT would be headed by director Federal Investigation Agency (FIA) Cybercrime and include officers from Inter-Services Intelligence (ISI), Intelligence Bureau (IB) and Islamabad police, according to a notification issued by the interior ministry.
The communique further added that the FIA Headquarters Secretariat would facilitate the probe team to find out the facts behind the social media smear campaign against CJ Farooq
Initial findings would be submitted within 15 days to the Ministry of Interior, the notification added.
On August 28, the Ministry of Law and Justice warned the political parties against targeting the state institutions amid Pakistan Tehreek-e-Insaf's (PTI) slander against the high court's chief justice.
Without naming anyone, the ministry in a statement said a political party's campaign on social media against the IHC CJ was reprehensible.
The ministry further said the party was also using derogatory language not only against Justice Farooq but also against the judiciary, according to a The News report.
The campaign from the party's official X (formally known as Twitter) handle calls Justice Farooq a "hypocrite" and accuses him of facilitating the PTI chairman's abduction. Various offensive hashtags, posts and videos were also used to target the judge.
According to legal experts, the campaign was a direct attack on the judiciary and judges, constituting contempt of court.
The Islamabad High Court Bar Association also strongly condemned the malicious campaign against CJ Farooq on social media, saying he was known for his integrity, impartiality, competence and adherence to merit.
The bar said deliberate malicious campaigns were an attempt to lower the stature of distinguished judge and shake public confidence in the judiciary.
Those inciting the malicious propaganda should be brought to justice, it added. 

#Interior #ministry #forms #JIT #probe #smear #campaign #IHC

Source link