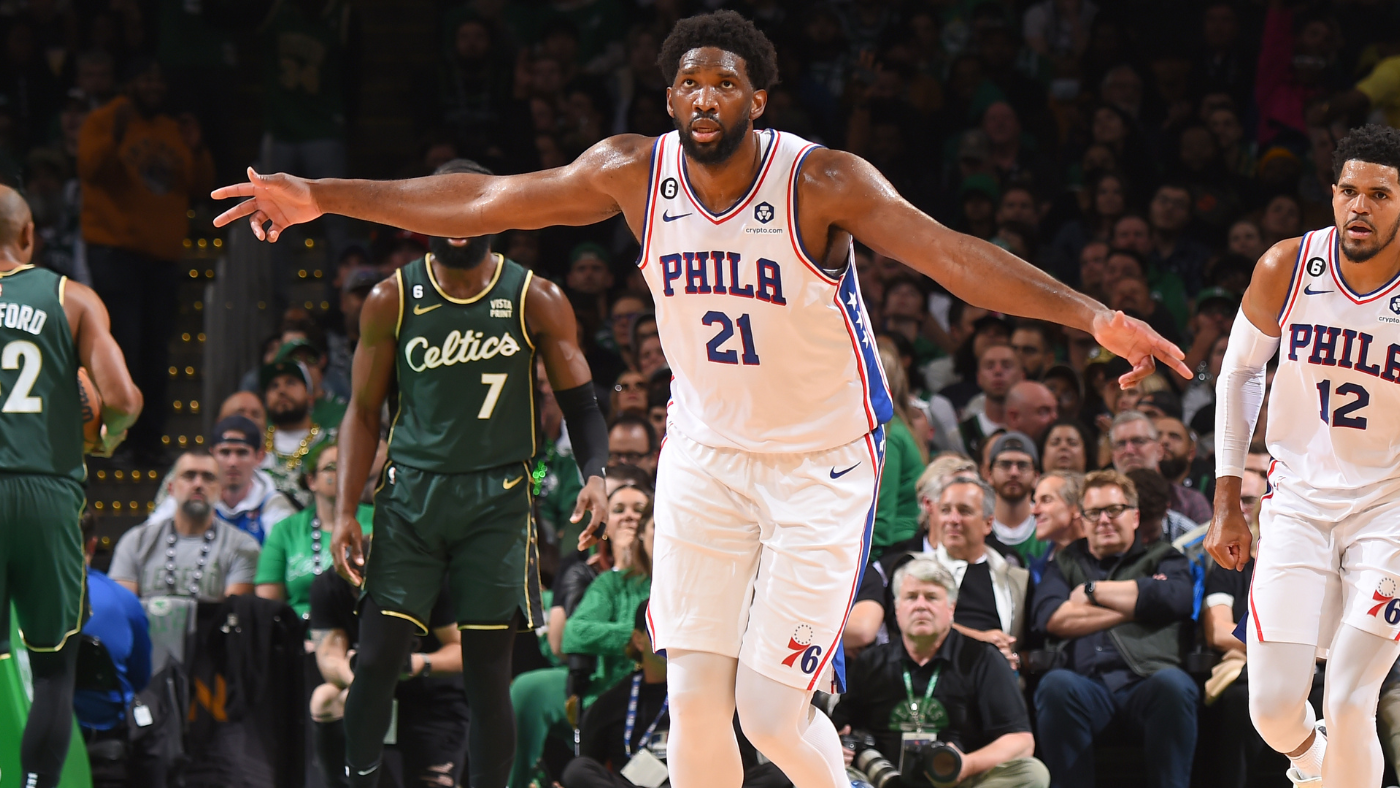 Philadelphia 76ers star Joel Embiid said "it's a possibility" he could play through a knee sprain Wednesday night in Game 2 of the team's second round playoff series against the Boston Celtics. Embiid, who missed Philly's Game 1 win and hasn't played since April 20, spoke to the media Wednesday morning, the day after he was named 2022-23 NBA MVP. Shams Charania reported that Embiid was "on track" to return if there were no setbacks for game time.
"It's a possibility, just like it was a possibility in the first game," Embiid said. "…I want to play."
Well, about 30 minutes before the scheduled opening tip of Game 2 against the Celtics, the Sixers made it official by clearing Embiid to return to the floor and rejoin the team's starting lineup.
Despite Embiid's absence, the Sixers pulled off a stunning 119-115 road victory thanks to James Harden, who turned in one of the best playoff performances of his career. Harden poured 45 points and dished out six assists, making the biggest shot of the game—a go-ahead 3-pointer with 8.4 seconds left in the game.
The Sixers have now stolen home court advantage from a Celtics team that remains the favorite to win the title, and are three wins away from advancing to the Eastern Conference Finals for the first time since 2001. However, that is a long way off. , and they may eventually need Embiid to get there.
Embiid suffered the right knee injury in Game 3 of the Sixers' first round match against the Brooklyn Nets. In the third quarter of that game, he went upstairs to contest a shot from Cameron Johnson and landed in an awkward tangle of limbs next to the Nets forward. Embiid got up slowly and bent his knee in the immediate aftermath, but played the rest of the match. That game was the last time we saw him on the floor.
After further examination, doctors determined that he had suffered an LCL sprain in his right knee. It is still unclear exactly how serious Embiid's injury is and what form he will be in when he hits the ground. He was on the court for a shooting spree around the morning of Game 1 without a brace, but wasn't moving properly and The athletic reported that he received platelet-rich plasma (PRP) injections on his knee and did not run much.
Check the opt-in box to confirm that you want to subscribe.
Thanks for signing up!

Keep an eye on your inbox.

Sorry!

There was an error processing your subscription.

We've seen Embiid play through serious injuries in the playoffs before, including a torn meniscus in 2021 and a broken eye socket and torn ligament in his thumb in 2022. It's no surprise, then, that he's prepared to go through the pain again fighting to make an early return in this series.