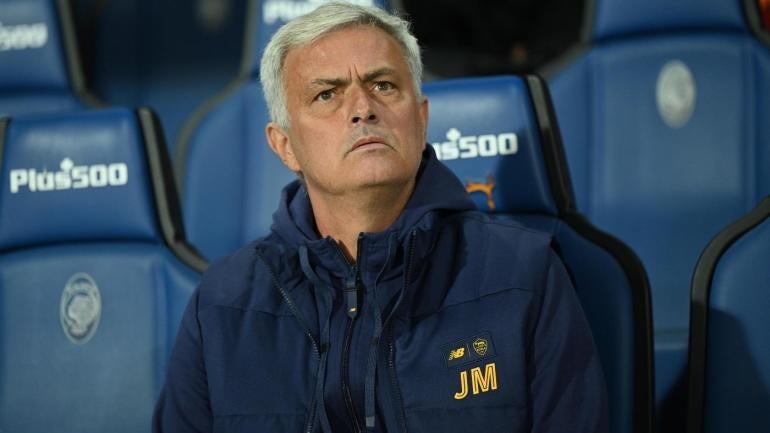 Getty Images
Jose Mourinho says he wore a wire on the sidelines during Wednesday's match against Monza to "protect himself" from match officials. The Portuguese coach was suspended for two games last February after an argument with fourth official Marco Serra and has already received three red cards this season. Mourinho accused Serra, who was not involved in the Monza race, of inflammatory comments, saying he "is unable to say what he said to me. I want to know if there is an audio recording of what happened ."
History repeated itself on Wednesday, as Mourinho himself explained to DAZN after the 1-1 draw in Monza, criticizing referee Daniele Chiffi.
"I'm not stupid, you know. Today I went to the match with a microphone. I recorded everything," said Mourinho. "From the moment I left the dressing room to the moment I came back. I had to protect myself."
Mourinho then went after the referee and called him out after he decided to show a red card to Roma left-back Zeki Celik.
"Chiffi is the worst referee I've met in my life. He's the worst. Technically he's terrible. No empathy," said Mourinho. "Zero communication. No consciousness. A second yellow card for a man who slips in the 96th minute… I stopped working (talking to him) 20-30 minutes before the end because I knew he would give me a red card for everything I didn't give him the chance, I decided no, that's enough."
Monza's coach Raffaele Palladino disagreed with Mourinho's statements and spoke about the referee during the post-match press conference.
"In my opinion he was one of the best referees, he didn't do anything wrong. In any case, I was angry with the fourth official. I've never seen an opposition protest like today, it was outrageous," he said. "I lent more energy to them than to what was happening on the field."
The Italian FA has opened a new case against Mourinho for what he said after the match and La Gazzetta dello Sport has reported that he may be suspended for at least one game.