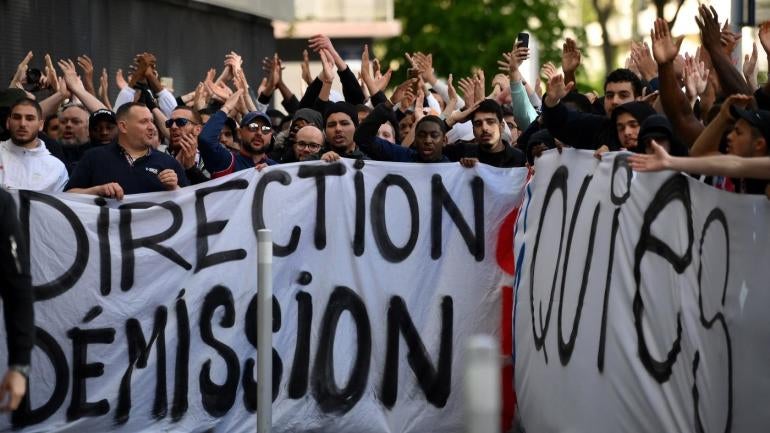 Getty Images
Paris Saint-Germain fans are not happy with the way things are going at the club and some showed it on Wednesday with a protest from Lionel Messi, Neymar and more. Some fans clamored for Neymar and Marco Verratti to leave the club along with teammate Messi, as well as chairman and CEO Nasser Al-Khelaifi as they gathered outside the club offices and Neymar's home. Fans of the French champions have become more vocal in recent weeks with Christophe Galtier's team in poor form, easily bounced out of the Champions League, while also struggling at times in Ligue 1.
Messi too on his way out of the club and has been suspended and fined for his unauthorized commercial trip to Saudi Arabia with his family. Les Parisiens supporters are widely recognized as one of Europe's most passionate and vocal fan bases, with the atmosphere of the Parc des Princes being a source of envy for many clubs.
That emotion was poured out in a few hundred ultras who gathered outside PSG headquarters for a weekday show of discontent towards the club. They lived up to their expectations with an emotional display of chanting and heavy use of flares not unlike the scenes greeting Messi's arrival.
Just 24 hours after Messi was penalized for his commercial trip to Saudi Arabia with his family in the wake of the 3-1 defeat at home to Lorient in Ligue 1, Neymar, Verratti and Al-Khelaifi were targeted. Neymar even reported on social media that the PSG ultras had visited him before moving to the club's headquarters in Boulogne-Billancourt.
The PSG fans expressed their displeasure with not only Messi, but the course of the club as a whole and the perceived focus on celebrity and business. The French capital's leadership was invited to resign with ticket prices, the situation regarding the Parc des Princes and the "parasitic" attitude of certain individuals, all evoked in a very public communiqué criticizing Qatari ownership: " QSI, you bought a football club… Play football!"
PSG took time to comment on the events before publishing a statement condemning the ultras' "unacceptable, abusive and shameful" behaviour: "PSG strongly condemns the unacceptable and abusive actions of a small group of individuals that took place on Wednesday, read a club statement. "Regardless of the differences of opinion, nothing justifies such actions. The club fully supports its players, staff and anyone who is the target of such disgraceful behaviour."
Messi was an obvious target with this week's news of his suspension and fine after weeks of targeting Argentina's FIFA 2022 World Cup winner. However, PSG's support also returned to Neymar after protests against the Brazilian for it and against former darling Verratti for his similarly unprofessional lifestyle.