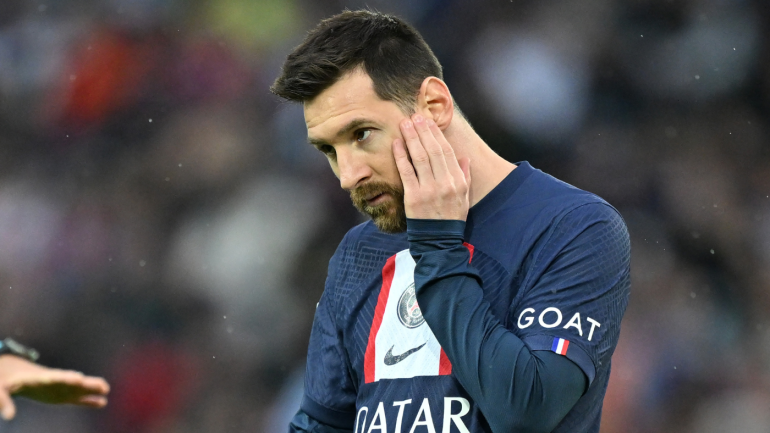 Getty Images
PARIS — Lionel Messi's return to action with Paris Saint-Germain in a 5-0 win Ajax played at the Parc des Princes on Saturday in an atmosphere as bizarre as it was in keeping with the capital's overall season. The Argentina international was greeted by a mix of whistles, cheers and screaming kids during the warm-up and pretty much every time he touched the ball or even came close to it.
Messi's return from suspension coincided with the indefinite disbandment of PSG's ultras and the result was an appalling combination of eerie silence, deafening chants from fans who finally got to see him play and muffled jeers. It seems most people are trying to make sure they see him in action at least once before he moves on knowing that Messi will not play in Paris next year.
PSG thrashing Ajaccio on the field became totally secondary as all eyes were on the former Barcelona man because of his recent Saudi Arabia commercial stunt. In many ways, however, it was business as usual in Paris in terms of an underwhelming spectacle, with the main attraction being the star names of Les Parisiens trotting around in opposition to the football they produce together.
Check the opt-in box to confirm that you want to subscribe.
Thanks for signing up!

Keep an eye on your inbox.

Sorry!

There was an error processing your subscription.

Messi was neither particularly impressive nor as bad as he has been at times since the FIFA 2022 World Cup he won with the Albiceleste. You wouldn't have known that though, given the discord he caused with every touch of the ball with corner kicks and free kicks generating equal walls of frenzied chanting and vehement jeers against the backdrop of large groups of kids losing their minds.
PSG are playing for what could and will now almost certainly be their 11th Ligue 1 title, a French record eventually surpassing AS Saint Etienne historical monument outright. Still, you wouldn't have known it given the focus on the hosts' number 30 to the point that even Kylian Mbappé's stunning second goal received less admiration than a thwarted Messi foray.
If last week has taught you nothing else, PSG is a club in total crisis and completely devoid of any identity. Their devoted echoes have failed them, the players play with thinly disguised disdain – see Achraf Hakimi's red cards in back-to-back home matches – and their campaign has been over since the minute Bayern Munich kicked them out of Europe.
But even before their latest setback in the UEFA Champions League, fans had already lost interest in Messi and the circus that PSG has become since the World Cup in Qatar. That Christophe Galtier's side were unbeaten coming out of the interim break feels years in the past not months because of all that has happened since, including a woeful run of Championnat form.
Saturday's bizarre episode was perfectly complemented by Spiderman's prematch dangling from the rafters and it's the logical conclusion to the most miserable of seasons. Mbappé continues his vain quest to achieve something meaningful with PSG without the help of most of his teammates, but recognition of his efforts on the pitch is minimized by what the club next door has become.