Hulu's "The Bear" has taken the internet by storm. Regarded by several critics as one of the best shows of 2022, the series was almost immediately renewed for a second season. Season two of "The Bear" hit Hulu in June 2023, and was the most-watched premiere of any FX series on the platform, per TV Insider. Among "The Bear's" dynamic plot with complex characters, the series has also been praised for its stellar cast, which includes the talented Jeremey Allen White, Ebon Moss-Bacharach, and breakout star Ayo Edebiri, who plays chef Sydney Adamu. Edebiri's performance in the acclaimed comedy-drama has already earned her multiple award nominations, including an Emmy nomination for outstanding supporting actress in a comedy series, as well as significant attention from audiences.
Edebiri started her professional career in standup comedy, and her foundation of writing and comedic wit helped launch the digital web series, "Ayo and Rachel Are Single," which she developed and co-starred in with friend and NYU classmate Rachel Sennott ("The Idol"). In 2020, she helped write episodes of Netflix's "Big Mouth," and later joined the cast to voice the role of Missy. Her role as the soft-spoken, shy nerd opened her up to a number of opportunities, including the animated "Teenage Mutant Ninja Turtles: Mutant Mayhem," currently in theaters, and the upcoming Marvel film, "Thunderbolts."
Regarding her recent exposure and line up of future acting gigs, Edebiri revealed to Rolling Stone in a 2023 interview, "Life is wonderful and sometimes unexpected things happen, but it's all learning opportunities. It's beautiful to go through hard things when you have wonderful people in your life. It's great to be lucky enough to learn lessons. And I haven't narrativized it yet, but I can feel myself learning. I'm excited to be at the point where I'm looking back 10 years later…If the Earth isn't, like, completely flooded by then."
Ayo Edebiri Movies
1. "Hello, Goodbye, and Everything in Between"
At the suggestion of her best friend Stella (Edebiri), Clare (Talia Ryder) attends a Halloween party, where she meets Aiden (Jordan Fisher), an aspiring musician. After hitting it off at the party, the two have a spontaneous date that leads them to develop feelings for one another. Clare is weary of being in a relationship, so she and Aiden make a pact to break up if they are still together at the end of the following summer, after one last date.
2. "Theater Camp"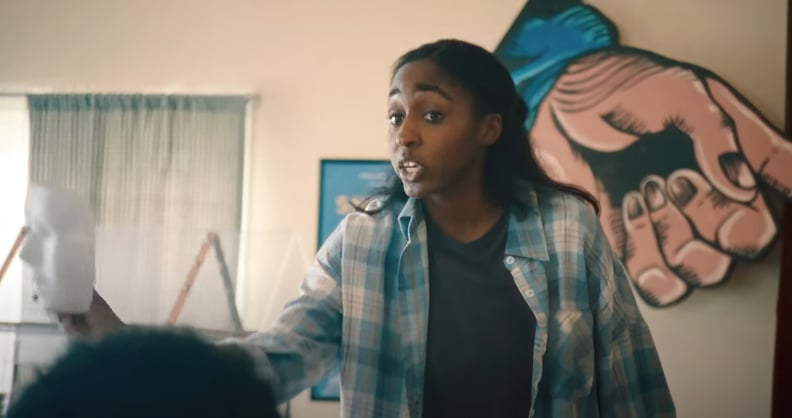 Image Source: Everett Collection
Each summer, the AdirondACTS summer camp hosts a group of aspiring actors and theater performers. When the camp's founder, Joan, falls into a coma, her son, Troy, is put in charge of managing the camp. The threat of a financial disaster is imminent, and its up to Troy to enlist the help of the camp's many students and teachers, including a student named Janet (Edebiri).
3. "The Sweet East"
Edebiri has a supporting role as Molly in the drama film "The Sweet East," which premiered at the Cannes Film Festival on May 18. The film centers around a high school senior who travels around various cities in the United States after being separated from her class on a senior trip. It also stars "Euphoria's" Jacob Elordi and Talia Ryder.
4. "Bottoms"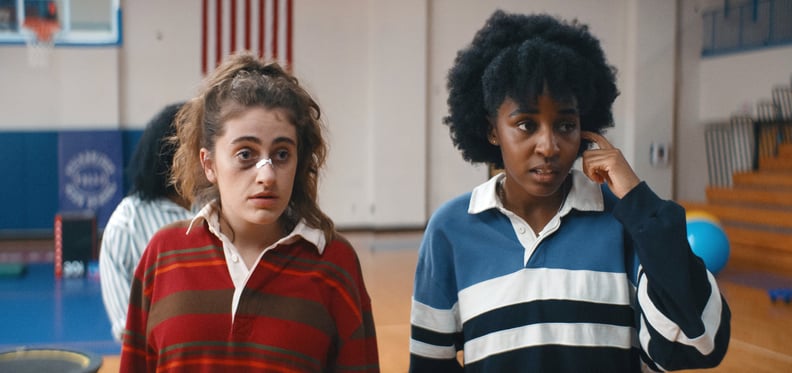 Image Source: Everett Collection
In this upcoming comedy, friends PJ (Rachel Sennott) and Josie (Edebiri) are high school students determined to have sex for the first time before graduation. To help achieve their goal, they start a "fight club" of sorts to hook up with cheerleaders before the big day. The film also stars Kaia Gerber, and hits theaters everywhere on Aug. 25.
5. "Spider-Man: Across the Spider-Verse"
In the sequel to the acclaimed "Spider-Man: Into the Spiderverse," Miles Morales, aka Spider-Man, leaves Brooklyn and travels through the multiverse to team up with a group of Spider-people and defeat a threatening new villain called the Spot. Edebi has a small role in the film voicing the character of Glory Grant, a bandmate of Gwen Stacy, aka Spider-Woman.
6. "Teenage Mutant Ninja Turtles: Mutant Mayhem"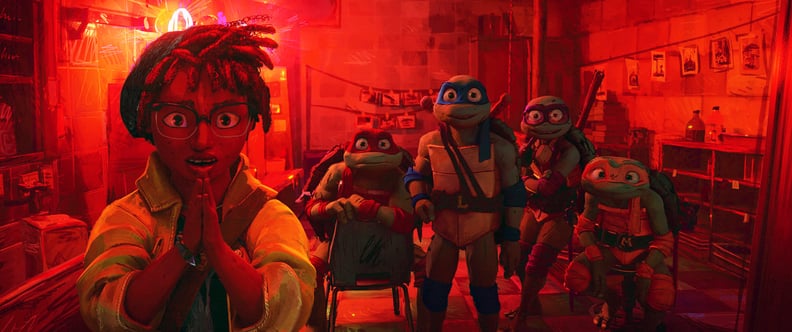 Image Source: Everett Collection
After years of living in isolation and being sheltered from the real world, a group of superhero turtle brothers — consisting of Michelangelo, Leonardo, Raphael, and Donatello — venture out into the streets of New York City to earn the love and trust of its residents through heroic actions. Following the theft of a stolen moped, the Turtles meet April O'Neil (Edebiri), an aspiring journalist who has been investigating a series of robberies from a perpetrator called Superfly. Now, April and the Turtles must join forces to stop Superfly's string of crimes.
7. "Thunderbolts"
"Thunderbolts," a film in the fifth phase of the Marvel Cinematic Universe productions, is based on the popular comic that centered around reformed supervillains. Edebiri's role in the movie has yet to be revealed, and production of "Thunderbolts" has been postponed due to the SAG-AFTRA and WGA strikes. Confirmed cast members include Harrison Ford, Florence Pugh, Sebastian Stan, and Steven Yeun, as reported by Backstage.
Ayo Edebiri TV Shows
1. "The Bear"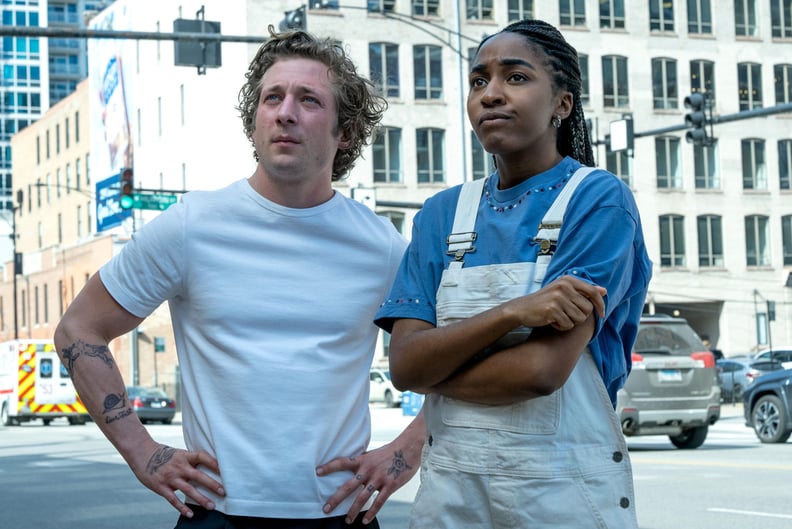 Image Source: Everett Collection
Following the tragic death of his brother, Michelin star chef Carmen "Carmy" Berzatto returns to his hometown of Chicago to manage his family's sandwich shop, The Beef. Unlike the fine restaurant he was used to working in, The Beef is poorly managed and has a chaotic staff, which makes his life complicated to say the least. Edebiri plays Sydney Adamu, a novice sous chef that seeks to help Carmy with the restaurant.
2. "Big Mouth"
Raunchy and hilarious, Netflix's "Big Mouth" centers around a group of teenagers as they navigate friendships, school, and going through the growing pains of puberty. In the series, which will run a total of eight seasons, Edebiri voices the role of Missy, an awkward girl that is often outcast from peers due to her shy and prudish personality.
3. "Dickenson"
Image Source: Everett Collection
Edebiri stars as Hattie in the Apple TV+ series, "Dickenson," which focuses on the intimate aspects of the life of esteemed poet Emily Dickenson. In the series, Hattie is the Dickenson family maid and a spiritual medium.


Source link
#Love #Ayo #Edebiri #Bear #Watch #Amazing #Performances