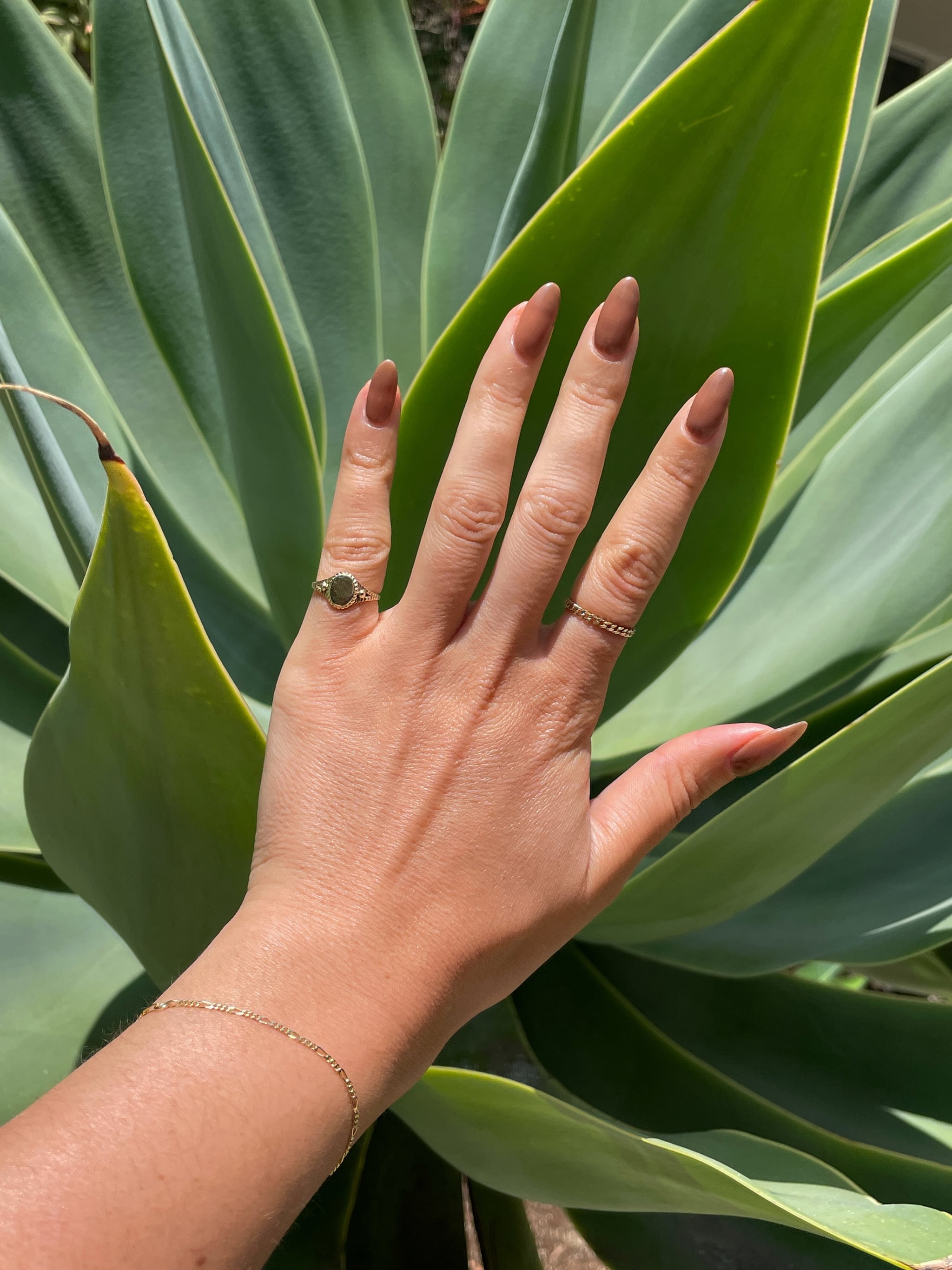 When it comes to hair trends, the latest looks seem to be inspired by animals: "jellyfish" haircuts, "wolf" cuts and even the "octopus" cut. However, when it comes to nails, everyone seems to be guided by food. There are the ever-popular "glazed donut" nails, the newly discovered "strawberry milk" nails, and the latest craze: "chocolate milk" nails.
I've seen the trend all over my social media feeds (and in real life), and while I usually gravitate toward lighter, sheer polishes, the images I saw had some reason to believe that brown was the new neutral. I saw the trendy shade paired with all the different outfits, and when it came time to choose "birthday nails" for my "birthday shirt" last week, I didn't hesitate before choosing a light brown shade at the nail salon. When I received tons of compliments on the shade from friends and strangers alike, I knew I had found my new go-to manicure shade.
Keep reading to learn more about the trend, how to recreate the look for yourself, and inspiration photos to take with you to your next salon appointment.
What are chocolate milk nails?
Chocolate milk nails are a play on the milk bath manicure, one of the most popular neutral nail trends of recent times. "We go through every iteration of a milky color, from almond milk to strawberry milk to chocolate milk," celebrity nail technician Sonya Meesh tells POPSUGAR. "Like the cappuccino or boba milk tea trend, chocolate milk is a great neutral look with a little edge that looks great on its own on short or long nails, making it very wearable for a wide range of skin tones."
While milk bath nails usually have a white, milky base color and strawberry milk nails have a translucent pastel pink, chocolate milk nails have a light brown color that resembles the look of chocolate milk, hence the name. The color can vary from a deep chocolate brown to a light chocolate brown, depending on how much "Hershey's syrup" you decide to add.
How to get chocolate milk nails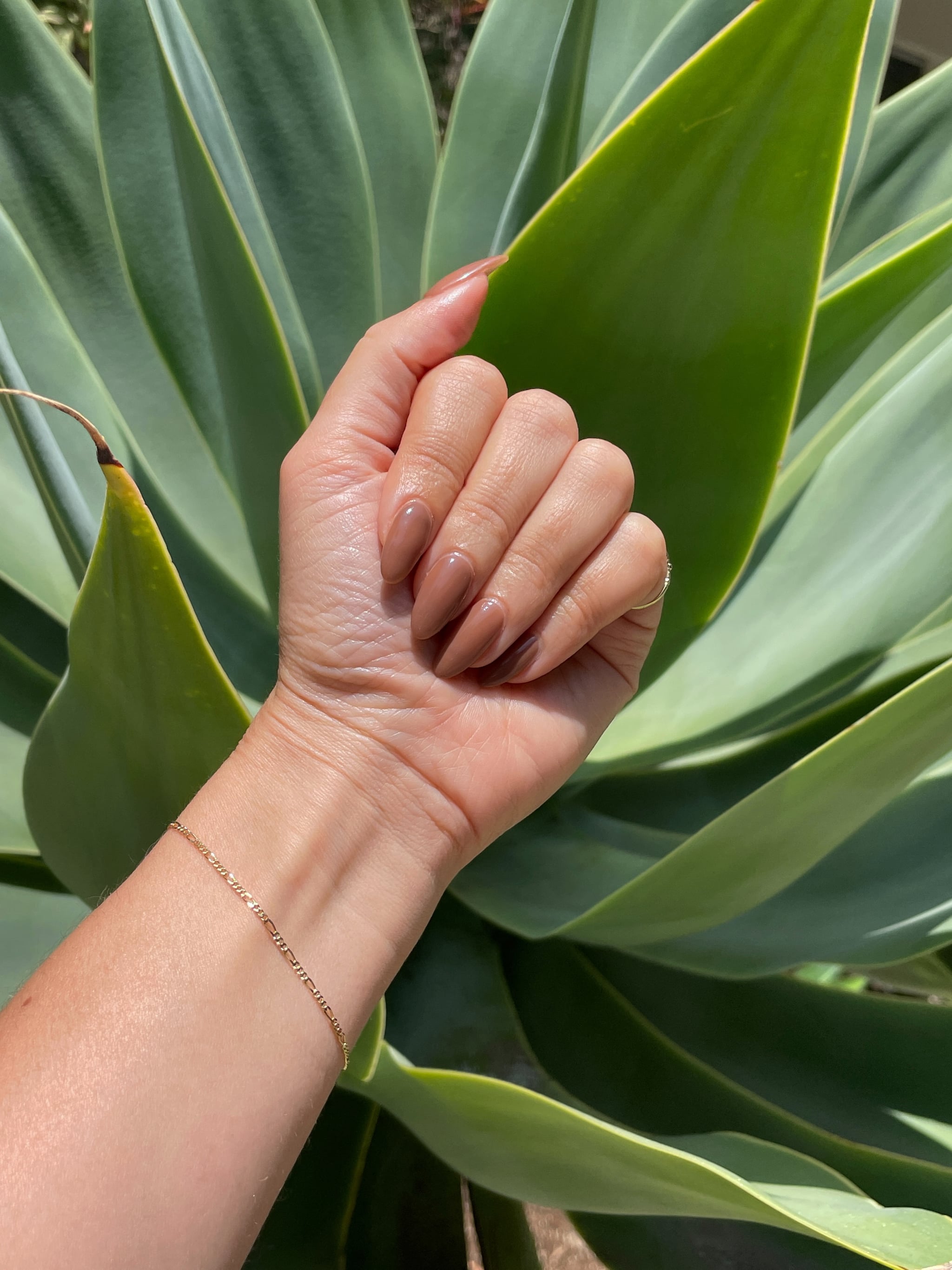 If you're as obsessed as I am and ready to try the trend for yourself, the good news is that the look is easy to achieve. Personally, I stopped by my local nail salon, but it's also easy to recreate at home.
Either way, you'll want to start by filing and shaping (or having a manicurist do) your nails into the desired shape. I've been growing mine out for the past few months, so I've opted to just file them – and keep my favorite shape, which is a mix between oval and almond.
Also, be sure to tidy up your nail beds and trim away any damaged skin around the cuticles. Since this trend is just a single color without the addition of nail art or anything else, having healthy looking fingernails is key. Once that's done, apply two coats of your favorite tan. Meesh suggests trying out the Orly in the shade "Coffee Break" ($11) or manicure gel polish in "Shell Beige" ($19). I used an unnamed color (#017 for anyone wondering) from my nail salon, and my technician applied four coats because it was quite sheer at first. However, the end result looked so good I could almost taste it.
Inspiration for chocolate milk nails
If you're convinced to test the trend for yourself, keep scrolling for inspiration to take to your next salon appointment.
Image source: POPSUGAR Photography / Renee Rodriguez




Source link
#chocolate #milk #nails #good #eat