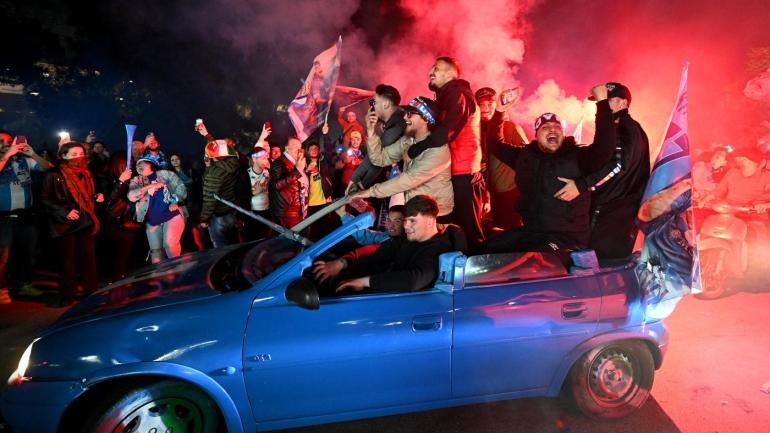 Getty Images
Naples is the Serie A champion 2022-23 and the fans celebrate their first Scudetto title in 33 years. The Azzurri won their third ever Scudetto and the first since the Diego Armando Maradona era. After the final whistle of the game against Udinese on Thursday, a 1-1 draw that was decisive, the fans began to celebrate this historic moment and gathered in the streets of the city. Here are the best sights and sounds from Naples and across the country, as the festivities also kicked off in the dressing room of the Dacia Arena.
"We are champions of Italy"
The Napoli team started celebrating in the dressing room with the players going crazy and standing on the table, with Victor Osimhen the goalscorer and Matteo Politano leading the group and singing.
Here are the celebrations from another perspective in the locker room:
The city is going crazy
Wild scenes from the city after the final whistle with the fans partying all night as the team is expected to return from Udine on Friday morning for security reasons. Watch the fireworks around the city that started at the final whistle:
The view of Naples from above is breathtaking. This will be one of the most incredible celebrations in the recent history of Italian football.
And this is Largo Maradona, where Napoli fans gather to remember their legend. The place where fans, tourists, players and club executives go before and after matches.
The big party on Sunday
Napoli take on Fiorentina on Sunday at the Stadio Diego Armando Maradona, where fans will have the chance to celebrate with the team in their home stadium. Napoli's owner Aurelio De Laurentiis spoke to CBS Sports at the end of the game in Naples, as he witnessed the match with the fans at the Maradona. He talked about the current season but also about his personal goals for the future. He hinted that this was just the beginning.