IAWP awards Sonia for innovative policing strategies
Cop known for efforts preventing gender-based violence.
She also served as SSP Chitral; established complaint cell.
---
PESHAWAR: Battagram District Police Officer and Senior Superintendent of Police (SSP) Sonia Shamroz Khan has achieved international recognition for her services after receiving the 'Officer of the Year' award from the International Association of Women Police (IAWP) in Auckland, New Zealand.
The accolade given to Khan comes following her exceptional contributions to law enforcement, innovative policing strategies, and her unwavering dedication to preventing violence against women throughout her career.
The female cop has earlier served as DPO Chitral where, among her several accomplishments, establishing a complaint cell to register complaints against forced marriages remains prominent, as she played a pivotal role in combat such issues.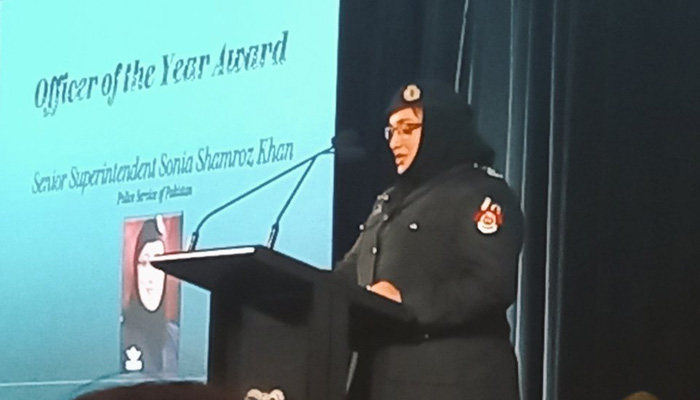 Khan, while speaking to Geo News, dedicated her award to the victims of gender discrimination and the hardworking women police officers, who were performing their duties against all odds. She highlighted that women police officers have been working hard to ensure peace and security.
The officer said that she had always considered cultural values and sensitivities during her work, which gave a boost to the reporting of the crimes against women.
Previously, DPO Khan said, the women in the remote Battagram district, where she was serving as DPO, would not seek police help, but now the situation has changed.

#Zealand #bestows #Officer #Year #award #female #cop

Source link