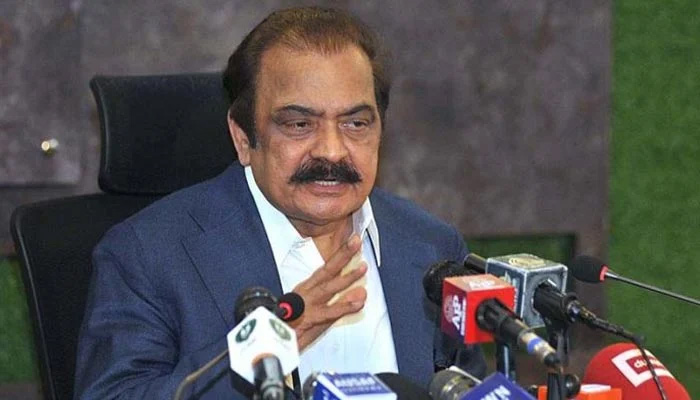 Sanaullah says CCI's decision based on consent of all stakeholders.
Says PPP's objection valid but delimitation is constitutional requirement.
PML-N leaders asks if PPP was unaware of Article 51.
---
KARACHI: After the Pakistan People's Party (PPP) expressed concerns over the delay in general elections, former interior minister Rana Sanaullah Khan said that the party was aware of the fact that the polls will be deferred while consenting to the approval of the census in the meeting of Council of Common Interests (CCI).
The Election Commission of Pakistan (ECP) on Thursday announced that the elections couldn't be held in three months due to the requirement of fresh delimitations after the notification of census 2023, as decided by the CCI.
In response, the senators of PPP and Jamaat-e-Islami (JI) spoke against ECP's decision to delay polls in order to carry out new delimitations, saying that it was "unconstitutional" as the electoral body is bound to hold elections within 90 days.
Speaking on Geo News show "Naya Pakistan", Sanaullah said that PPP's objection to the delay in elections is valid but delimitation is a constitutional requirement after the notification of the census.
The Pakistan Muslim League Nawaz (PML-N) leader said that the CCI decided to notify the census with the consensus of all stakeholders including the PPP.
He said that all parties had agreed on the point that only one election (2018) was held on the basis of the 2017 census and now it is the constitutional obligation to hold elections as per the new census.
If the election is held on the basis of the old census, it will be unconstitutional, and the matter will be challenged in the court and will not stand, he added.
Sanaullah went on to say that the constituencies are re-arranged after the notification of the census. He asked if PPP was not aware of Article 51 clause 5.
"I wanted that the elections should be held in 60 days instead of 90 days. I know the standing of PML-N in Punjab. I am sure elections will be held in February 2024," he said, asking why wouldn't ECP announce the elections schedule after the completion of the delimitations till December 14?
The former minister further stated that the delimitation of constituencies is the constitutional requirement and there is no other option.
He said holding elections in 90 days is also a constitutional requirement but there is room in it.
On Thursday, the poll organising authority announced the schedule of new delimitations to be carried out as per the new census approved by the CCI earlier this month.
The ECP schedule showed that fresh delimitation will take nearly four months, meaning the general elections in the country cannot be held within 90 days of the dissolution of the provincial and national assemblies.

#PPP #knew #notifying #census #delay #polls #Rana #Sanaullah

Source link