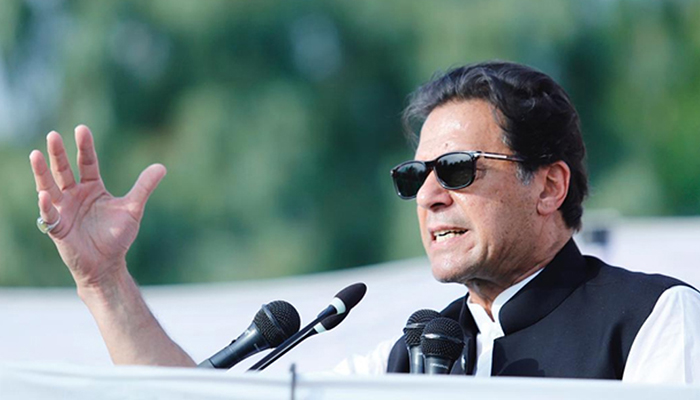 The suspension of former prime minister Imran Khan's sentence by the Islamabad High Court (IHC) in the Toshakhana case does not undo his disqualification and conviction, which will remain intact until the court rules on the main appeal challenging the trial court's verdict, legal experts said Tuesday.
Earlier this month, a district and sessions court in the federal capital had sentenced Khan to three years in prison and imposed a fine of Rs100,000, after finding him guilty of corrupt practices related to the state gift repository — in a move that barred him from contesting elections due later this year.
The IHC on Monday suspended the PTI chief's sentence in the Toshakhana case and ordered the authorities to release him on bail.
However, the court said it would issue a detailed verdict later wherein in would mention reasons for the suspension of the trial's verdict that sentenced Khan to three years in prison.
Commenting on the IHC's short verdict, advocate Hafiz Ahsan Ahmed told Geo News that the verdict is not unusual or unprecedented as there were bright chances of suspension as Khan's sentence is of three years.
However, the lawyer added that PTI's chief conviction and disqualification would remain intact.
"The verdict of suspension of sentence is never on the merit of the case," Ahmed explained. "One of the grounds of the suspension might be the delay in the fixing of the main appeal in the high court for the hearing, whereas another ground is that punishment being less than five years. In this case, it was three years."
Concurring with advocate Ahmed's view, Lawyer Raja Kahlid said that IHC's verdict was not unusual.
"It was a short sentence which means the punishment was of three years. They (PTI) filed a petition under Section-426 of Code of Criminal Procedure for the suspension of the sentence.
"In the main appeal, the prayer is made for setting aside the conviction of the accused. However, in the appeal filed according to CrPc, the court was implored to suspend the sentence for the time being," Kahlid said.
He explained that suspension of sentence was not unusual in those cases which have three years of punishment. 
Moreover, the legal expert further said another reason for the suspension of the sentence is that the main appeal could not be fixed early and the court might take more than six months to decide due to the backlog of cases.
However, the conviction and disqualification will remain in effect, he added.

#PTI #chiefs #conviction #disqualification #remains #intact #legal #experts

Source link