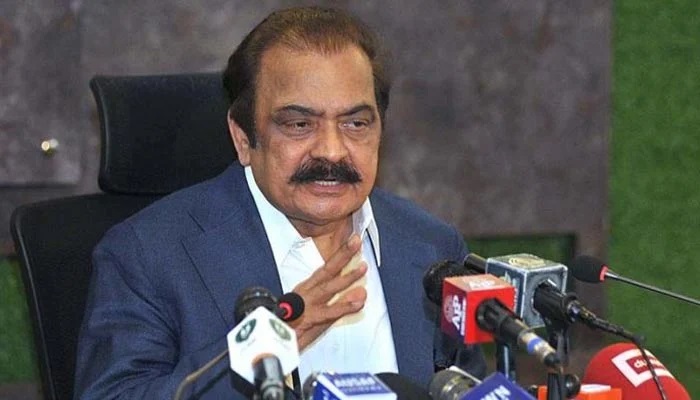 Why there is need for judicial system's "blue-eyed" to go abroad, asks Sanaullah.
Those he works for are trying to save him, claims ex- minister.
"Going to int'l court means making Pakistan stand in global dock as criminal."
---
Amid reports that former prime minister Imran Khan hired a UK-based lawyer to represent him in international courts, Pakistan Muslim League-Nawaz (PML-N) President and ex-interior minister Rana Sanaullah said Sunday that a "puppet is being used to defame Pakistan globally".
"Going to the International Court of Justice means making Pakistan stand in the global dock as a criminal," the senior PML-N leader said adding that only enemies of Pakistan could do this despicable act.
On September 1, Pakistan Tehreek-e-Insaaf (PTI) announced on its official X — formerly known as Twitter — account: "PTI chairman and former PM Imran Khan has appointed the eminent human rights Barrister Geoffrey Robertson KC of Doughty Street Chambers to advise and represent him in international courts in relation to unlawful detention and human rights abuses."
A PTI source in Islamabad said that the decision to hire Robertson was taken by Khan on the advice of Omar Ayub Khan, Zulfi Bukhari and his lawyers in Pakistan after consulting "some important people in the UK".
Subsequently, on September 2, PTI revoked the services of Geoffrey Robertson KC after backlash and severe criticism in the media.
Doughty Street Chambers said it has been told by PTI that Robertson's services will not be required due to criticism in Pakistan.
In a statement today, Sanaullah took a jibe at Khan saying the "blue-eyed" of the judicial system did not need to go abroad.
"Who is spending money on Imran Niazi?" the former interior minister asked. "Those he works for are trying to save him. First, they made him a hero, gave him foreign funding and brought him to power after which Pakistan's economy and foreign relations were destroyed."
He further said that the path to civil war was paved through inflation whereas the minds of the youth were filled with "gunpowder so that could attack when and where they wanted".
Furthermore, Sanaullah said that occupants of Palestine and Indian Illegally Occupied Jammu and Kashmir (IIOJK) were jubilant when they found out that Pakistan would be taken to international court.
As soon as PTI announced it had hired Robertson there was a lot of criticism in the media that the lawyer has been involved in campaigns against the Pakistani military, propagating false theories about the 1971 war and the breakup of Bangladesh from Pakistan.
In August, PTI announced it revoked engagements of UK solicitor Rashad Yaqoob, his organisation Human Rights Legal Aid Foundation (HRLAF) and Azhar Siddique, the Pakistan Supreme Court lawyer who is now based in Manchester.

#Puppet #defame #Pakistan #globally #Sanaullah #slams #Imran #hiring #lawyer

Source link