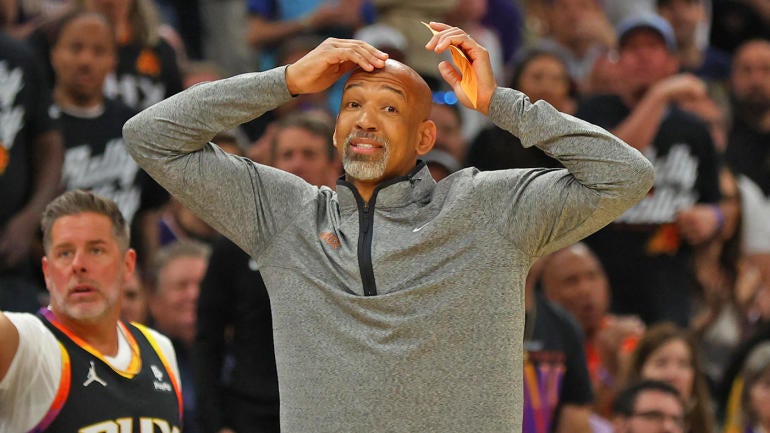 USA TODAY
According to Bill Reiter of CBS Sports, the Phoenix Suns say goodbye to head coach Monty Williams. The Suns had championship hopes this season after they traded for star forward Kevin Durant. However, after a second-round exit at the hands of the Denver Nuggets, the Suns have opted to leave their head coach and seek a new voice moving forward.
Williams coached the Suns for only four seasons, but was still among the most successful coaches in franchise history. In 2019, he took over a team that had been out of the playoffs for nearly a decade. While he didn't get them back in right away, he did lead them to an 8-0 undefeated record in the Orlando bubble that ultimately put them just short of the 2020 playoffs.
The Suns traded for Chris Paul in the 2020 off-season and that helped the Suns jump to massive regular season success. The Suns went 115-39 the next two regular seasons, but those wins didn't translate to the postseason. The Suns blew a 2-0 lead in the 2021 Finals to the Milwaukee Bucks, and in 2022 they blew a 2-0 lead in the second round against the Dallas Mavericks. Phoenix was an underdog against Denver, but once again the Suns failed to capitalize on a championship opportunity and were ousted in the second round.
Williams won Coach of the Year in 2022, and he won the Coach Association's Coach of the Year award in both 2021 and 2022. But those playoff missteps and a seemingly fraught relationship with former No. 1 overall pick DeAndre Ayton seem to have done Williams inside.
Now the Suns have one of the most sought-after head coaching jobs in basketball. They've equipped a roster with two superstars in Durant and Devin Booker, a new owner willing to spend money and a market that tends to recruit talent quite well. Phoenix should be able to pick almost any coach on the market. Williams should similarly be in demand with the increasing number of teams still looking for a leader. The Suns have a great team and Williams is a great coach, but Mat Ishbia has chosen to say goodbye to the man who took Phoenix to the Finals just two summers ago.