Sparking off intrigue and conversation across the entertainment landscape was an unexpected camaraderie between Selena Gomez and Hailey Bieber.  Amidst the joyous celebration of this newfound friendship, a shadow of unease loomed over none other than Justin Bieber. It did cast a unique hue on this unfolding story of relationships, past and present. Let's delve into a captivating flashback to the bygone days of Hollywood when this friendship took center stage.
An unlikely snapshot featuring Selena Gomez and Hailey Bieber
The iconic image capturing Selena Gomez and Hailey Bieber side by side at the Academy Museum Gala in 2022 reverberated through the entertainment sphere, shattering preconceived notions and breaking free from a history of supposed rivalry. The internet was abuzz, both applauding and speculating about the unforeseen union of these two Hollywood divas. The photograph marked a significant moment of departure from their shared history, characterized by connections to Justin Bieber. Hailey's public addressing of the rumors surrounding her relationship with Justin, vis-à-vis Selena, provided further context to this groundbreaking tableau.
ALSO READ: Selena Gomez looks uber chic in white tank top while she hangs out with friend amidst DJ Fred dating rumor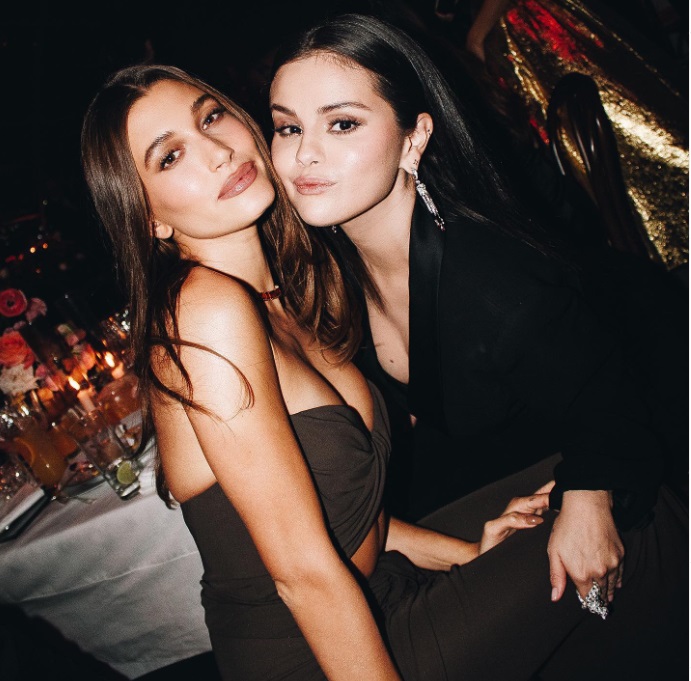 Justin Bieber's inner turmoil
Amidst the celebratory chorus, rumors swirled that Justin Bieber was not at ease with the newfound amicability between his current wife and his former flame. Whispers circulated that he held reservations about their growing bond, concerned about the exchange of stories and secrets. Allegedly, Justin's anxiety stemmed from the prospect of his wife and ex-girlfriend forming a closer connection, possibly rekindling memories that he himself had moved on from. Reports painted a picture of apprehension and discomfort, revealing Justin's alleged concerns about the situation potentially taking an unforeseen turn.
Selena Gomez and Hailey Bieber's new drama 
Selena Gomez and Hailey Bieber's ongoing drama had made headlines, stemming from their past relationships with Justin Bieber. The conflict included accusations of shading, body-shaming, and perceived similarities between the two. Hailey addressed hate comments on Instagram, while Selena defended her against death threats. The drama also involved Justin Bieber, who was accused of shading Selena. Despite past issues, both Selena and Hailey had expressed a desire for mutual respect and kindness. Their interactions on social media and public events had fueled speculation, but comments suggested a willingness to move forward.
ALSO READ: Did Justin Bieber's wife Hailey Bieber use a prop to cover her stomach amid pregnancy rumors? Find out


Source link
#Throwback #Justin #Bieber #nervous #Selena #Haileys #unexpected #friendship