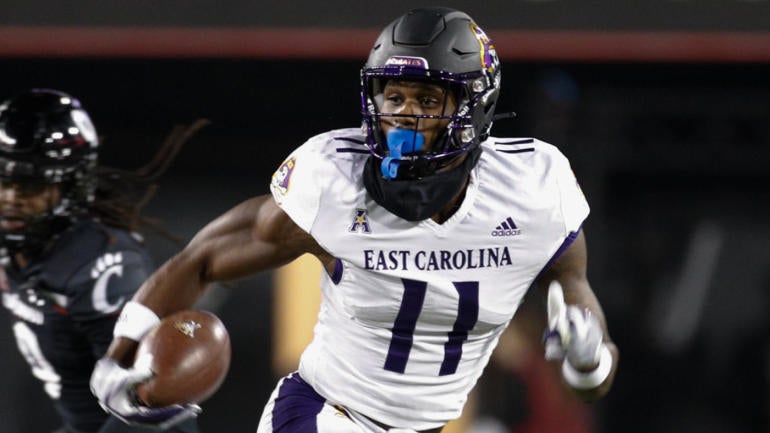 Getty Images
After a disappointing NFL Draft weekend in 2023, Isaiah Winstead decided to take matters into her own hands, and keyboard. Winstead, a former receiver in East Carolina, posted a highlight video on his Twitter page after he was not drafted and did not receive an undrafted free agent offer immediately after the draft.
Winstead's persistence paid off quickly and significantly. His highlight video, which had garnered 4.6 million views as of Friday, caught the attention of the San Francisco 49ers, who signed him earlier this week. Winstead is now preparing for the team's rookie minicamp with the goal of securing a spot on the roster at the start of the regular season.
Winstead's road to the NFL included stops at three different colleges. He began his college career at Norfolk State after helping his high school team win consecutive state championships. Winstead spent two years at Norfolk State (where he caught 83 passes for 977 yards and eight touchdowns) before moving to Toledo.
During his first season with the Rockets (2020), Winstead led the Rockets in receiving and was tagged as a third-team All-MAC performer. He finished second on the team in receptions and receiving yards in 2021
Winstead saved the best year of his college career for last. During his lone season for the Pirates, Winstead—a graduate student at the time—caught 88 passes for 1,085 yards and six touchdowns and while receiving All-American Athletic Conference honorable mentions. He caught a pair of touchdown passes in ECU's Birmingham Bowl victory over Coastal Carolina.
At six feet tall and weighing 210 pounds, Winstead's physical resources should give him a shot at making an NFL roster this season. His determination, which showed after the draft, is likely to further enhance his chances of a successful career in professional football.