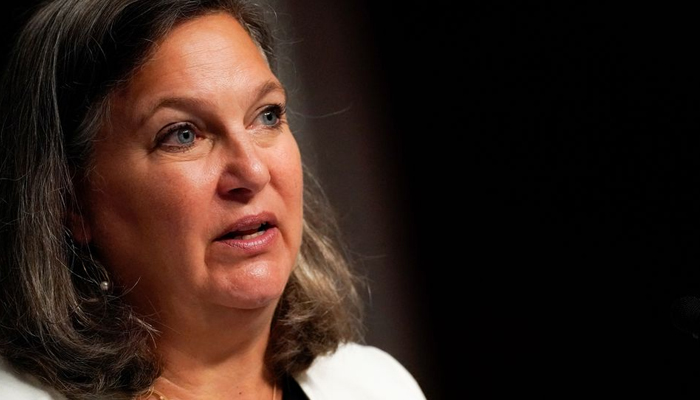 US diplomat discusses upcoming polls in accordance with laws and constitution.
Also discusses broadening and deepening US-Pakistan partnership.
Pakistan's economic stability, prosperity, and continued engagement with IMF also discussed.
---
WASHINGTON: Acting Deputy Secretary of State Victoria Nuland has emphasised the importance of timely and free and fair elections in Pakistan in a telephonic conversation with caretaker Foreign Minister Jalil Abbas Jilani, according to a statement issued by the US State Department on Tuesday.
"Acting Deputy Secretary Nuland and Foreign Minister Jilani discussed the importance of timely, free and fair elections in a manner consistent with Pakistan's laws and Constitution," the US State Department said in a statement.
The top US diplomat Jilani spoke over the phone with Jillani to congratulate him on his appointment as interim foreign minister and discussed broadening and deepening the US-Pakistan partnership on issues of mutual concern.
According to State Department spokesperson Mathew Miller, matters related to Pakistan's economic stability, prosperity, and continued engagement with the International Monetary Fund (IMF) were also deliberated upon.
Pakistani politics has been in a crisis for over a year, with former prime minister Imran Khan – who was ousted in a parliamentary vote of no confidence last year – being at the centre of it.
Khan blamed the US and Pakistan's former army chief General (retd) Qamar Javed Bajwa for his ousting. Both Washington and the military have denied his claims. The State Department statement on the call between Nuland and Jilani made no mention of Khan.
The Islamabad High Court (IHC) on Tuesday suspended the incarcerated Pakistan Tehreek-e-Insaf (PTI) chief's sentence on corruption charges in the Toshakhana case, but he would remain behind bars as a judge had already ordered his detention in another case.
The conviction of Khan has also barred him from contesting elections for five years.
Pakistan swore in a caretaker cabinet under interim Prime Minister Anwaar-ul-Haq Kakar in mid-August, tasking it with running the country until fresh elections, which may be delayed beyond November as constituency boundaries are redrawn.
The caretaker cabinet's top job would be to lead Pakistan towards economic stabilisation, with the $350 billion economy treading a narrow recovery path after getting a last-minute $3 billion bailout deal from IMF, averting a sovereign debt default.
On August 17, the ECP announced the schedule of new delimitations to be carried out as per the new census approved by the Council of Common Interest (CCI).
The ECP schedule showed that fresh delimitation would take nearly four months, meaning the general elections in the country cannot be held within 90 days of the dissolution of the provincial and national assemblies.
As per the schedule, the new delimitation of constituencies nationwide will be notified in December this year.
On August 29, the Foreign Office said it had not yet received any such communication from any capital after reports of some senior diplomats expressing reservations regarding the delay in polls in Pakistan surfaced, sources informed The News.
If a country raises any doubts and concerns, the FO said, the authorities can address them.
The FO's response came after reports floated about some senior diplomats suggesting that a delay in the elections could have negative effects on Pakistan's relationships with democratic nations.
It was also reported that a few countries have engaged with the authorities concerned about the electoral process to gauge the possibility of any unwarranted postponement of the polls.
Highly placed sources within the FO informed The News on Monday that the Election Commission of Pakistan (ECP) has already unequivocally stated there are no plans to postpone the elections.
Meanwhile, FO Spokesperson Mumtaz Zahra Baloch clarified that she has no knowledge of any messages from any capital on this matter, as the positions of Pakistan and other countries on the issue are already known.
---
— With additional input from Reuters

#diplomat #urges #free #fair #timely #elections #Pakistan

Source link