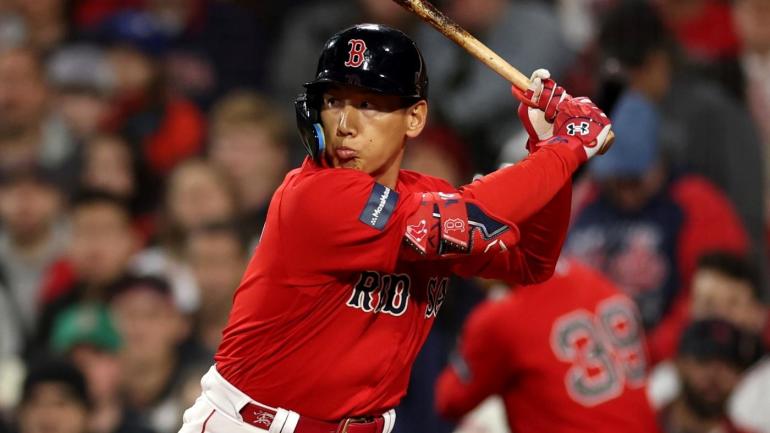 Getty Images
Boston Red Sox outfielder Masataka Yoshida wasted little time in extending his majors-leading streak to 14 games on Thursday-evening against the Toronto Blue Jays. Indeed, Yoshida jumped on an offer from Kevin Gausman in the bottom of the first inning and sent it to the Fenway Park bullpens to give Boston an early 1-0 lead (GameTracker):
According to Statcast, Yoshida's blast traveled 400 feet and left the bat at an exit velocity of 101.6 mph. It was the fifth home run on his hitting streak, as well as the 16th run batted in. Yoshida is now hitting .310/.397/.550 with six home runs and 22 runs batted in over his first 116 trips to the board.
Yoshida's hitting streak represents a radical turnaround considering how he struggled to begin with. CBS Sports wrote about his woes in mid-April, noting that he showed a good eye but needed to improve his contact quality:
Yoshida's average launch angle so far is about minus -8 degrees, or the lowest among qualified hitters. What's more, only 15% of Yoshida's hit balls have had a launch angle between 10 and 30 degrees. The league average is 31%. Mind you, a higher launch angle is not always better. But just as you don't want your batters hitting the ball straight into the air, you don't want them wearing down the dirt in front of the plate.
Sure, including Thursday's homer, Yoshida's season markers now include an average launch angle of 1.6 degrees and 23.6% balls hit between 10 and 30 degrees.
The Red Sox signed Yoshida, 29, to a surprise five-year, $90 million off-season deal. The contract was met with skepticism across the league, as many reviewers believed in Yoshida's contact and on-base chops, but questioned whether his power would transfer to the majors.