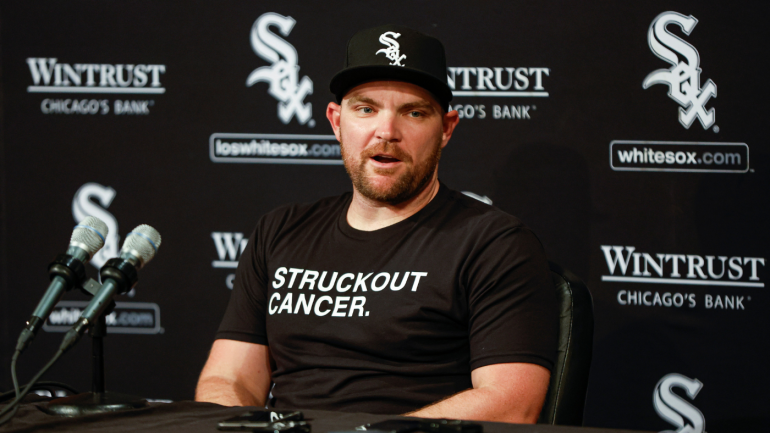 SATISFACTION
Chicago White Sox poet Liam Hendriks is cancer free. The three-time All-Star recently shared that he has completed treatment and is in remission, and he's doing so well physically that he's starting a minor league rehab program this weekend. Hendriks is on track to rejoin the White Sox in a few weeks.
"I've never seen it as a 'why me thing?'" Hendriks told reporters Wednesday (by ESPN). "I looked at 'why not me?' I tend to have a rosier outlook on life than gen pop, so that was my process behind it. 'I got this. This is my next challenge.'"
While wearing an excellent "STRUCKOUT CANCER" jersey, Hendriks said he first noticed lumps in his neck and hips last year, and thinks he may have been battling cancer this past season. He also joked "I was so worried about losing weight (during treatment), I gained 15 pounds."
"I don't intend to go backwards," said Hendriks (according to The Athletic). "If I go out (and give up) a hit, I'll still be pissed."
The White Sox are hosting the Minnesota Twins this week, and representatives from the Twins organization attended Hendriks' press conference on Wednesday alongside White Sox players and personnel. Hendriks added that he has received messages and support from players across the league.
Hendriks, 34, saved 37 games last season with a 2.81 ERA and 1.04 WHIP. The White Sox have not yet announced a full rehabilitation plan, likely because it has not yet been mapped out. Hendriks will start his rehab assignment this weekend and he will progress as best he can.
Chicago will go into action on Wednesday with the third-worst baseball record (9-21) and third-worst run difference (minus-64).