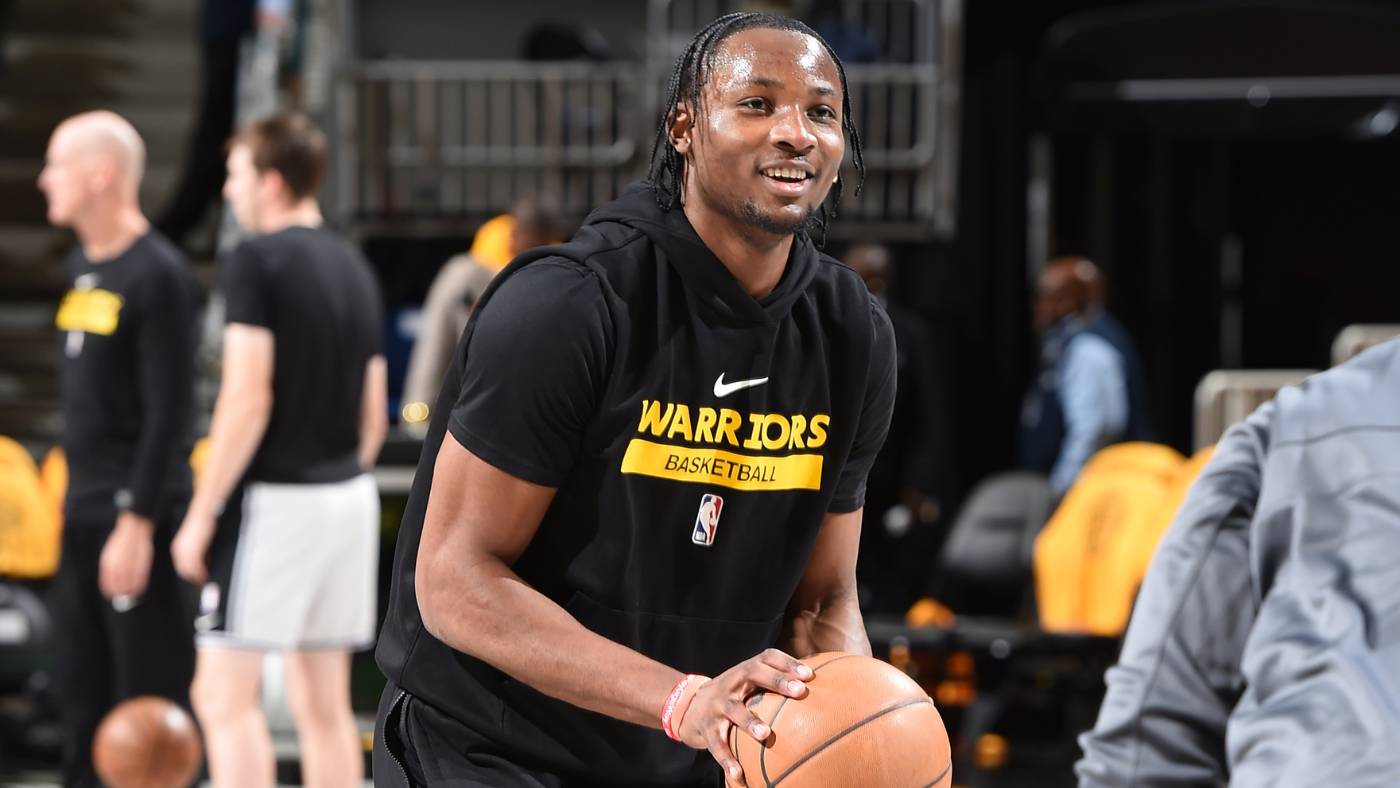 Jonathan Kuminga has been out of the Golden State Warriors' rotation lately, and the 20-year-old forward has found this "difficult," he said in an interview with the San Francisco Chronicleby C. J. Holmes.
Kuminga, the No. 7 pick in the 2021 draft, averaged 9.9 points, 3.4 rebounds and 1.9 assists in 20.8 minutes this season, playing in 67 games and starting in 16 of them. In the Warriors' first round match against the Kings, he played 10 minutes in Game 1, four in Game 2, 13 in Game 3 and only appeared in stoppage time from then on. He received a DNP CD in Game 5 of that series on Tuesday and again in Golden State's opening loss to the Los Angeles Lakers.
Of the San Francisco Chronicle:
"It's hard to get through this season and be in (the game) most of the time and then things just pop up out of the blue without you knowing what's going on," Kuminga told The Chronicle.

…

"It's still hard to hold every time. It's still hard to smile every time," Kuminga said. "But knowing where I come from, seeing how many things I've been through that a lot of people don't know that brought me to this point…I feel like my whole career, all my life I've never gotten anything. I've seen so many people get stuff that's never happened to me.

"When I was in high school I was definitely the number 1 player, but it was never handed to me, I had to prove my point. … You can't stop the sun from shining, and at some point the sun is I'm going to get out. That's what keeps me ready every day."
Is this:
A) an honest answer about the challenges of being on the edge of the rotation during the most important time of the season; or
B) an unnecessary complaint, especially in terms of the "things just shoot out of the blue without you knowing what's going on" part, from a sophomore player on a team with championship aspirations?
The answer, of course, is that it's both, but if you're leaning towards B, maybe it's because you're aware of the buy-in speech Stephen Curry gave to the team ahead of Game 7 against the Kings. Last Saturday, before the Warriors' filming session, Curry addressed the "division they let seep in," as The Athletic's Marcus Thompson and Shams Charania put it.
From The Athletic:
According to multiple sources in the private session, Curry told the team that he believed in them, that they had enough to win. He asked for their trust in return. He assured them that he could achieve victory if they all bought in. He begged them to put all their feelings aside – which sources with knowledge of the locker room believed messages were aimed at [Jordan] Poole, Jonathan Kuminga and other boys who may have been unhappy for reasons such as playtime and role – and join the unified mission. Anyone who wanted to stay in his emotions, he told to stay home. He told everyone who needed a vacation not to get on the bus to Sacramento. But anyone who did get on the bus saw Curry as a signature of approval, a binding agreement to be aboard the mission. And when they did, when they got on the bus, he promised he would deliver. With his game, his faith, their solidarity, they would win.

…

"You're in this room where you're going to fold or you're going to get up," [Draymond] Green said, raising his voice in excitement as he relived the speech. "Once he did, you have no choice but to stand up. He's locked everyone up." When you get on this bus, you're committing to this team. It doesn't matter if you play zero minutes or 40 minutes. You're going to make a commitment to do whatever it takes."
During practice on Wednesday, Warriors coach Steve Kerr said Kuminga "just needs to stay ready" because the rotation could change as the series progresses. Game 1 vs Los Angeles.
"You see the opportunity for JaMychal to be in a game like last night," Kerr said. "He stays ready, he comes out and knocks over some jumpers. That's what the playoffs are about. Every game is different, every series is different, and so it's up to every player – and I tell this to all our guys – to stay ready. Stay ready for any opportunity that comes your way because injuries happen, matches change. But it's not easy. It's not an easy task to suddenly go out and play after a week or to have sat still for two.'
The reason Kuminga looks in from the outside isn't some mystery. It's distance. While he shot a perfectly respectable 37% from 3-point range this year, he did it at low volume and the vast majority of his attempts were wide open. In March, Kerr said Golden State avoids playing Kuminga on the small forward because opponents disrespect his shot.
"Of course with Draymond and [Kevon Looney] the paint will get busy," Kerr said. "People will always pack the paint with the guys guarding those two, and many teams will lock our guards and send them in the paint. So that's why we traditionally have another shooter out there."
That was exactly Los Angeles' defensive strategy against the Warriors, and the approach was particularly extreme. In Game 1, the Lakers completely ignored Gary Payton II on the perimeter, throwing open stares at JaMychal Green and even kissing Andrew Wiggins.
This could be a long series, and there could be a place for Kuminga in it. However, when he does play, Kerr knows that Los Angeles won't be guarding him on the perimeter, so his minutes should come on the 4 or even as a small 5. Going into Game 2, Golden State is likely weighing how much it needs to use one big lineup – it went so late in the opener on a 14-0 run – and get more shots on the field. Picking up another player who has no floor space is probably not the top priority of the coaching staff.